Our production campaign is LAUNCHED! Go here for most up to date information!
Sweetbitter is a coming of age myth rooted in the folk music and deep woods of the South. As three young women struggle to get out of their small town, they cross paths with the ancient ruling forces of the forest, leading them into a world they could never have dreamed of.
We are raising the funds to complete the film which includes production, sound mixing, scoring, color grading, and all donations are tax-deductible!
In the wake of COVID-19 thousands of artists are out of work, and this is a great way you can have a positive impact on our world.

Nestled in the shadow of the Appalachian mountains, there is a sleepy town. Averno. Many stories have already been told about this town- about the witches in the woods who laid the first stones, about the men with fire who "settled" it and erased them, about the conspiracies and lies that plague the town and the unsolved murders that lace through its history books- but this story is not about them. This story is about girls. Three of them. And what they did, unseen, in the shadow of the forest.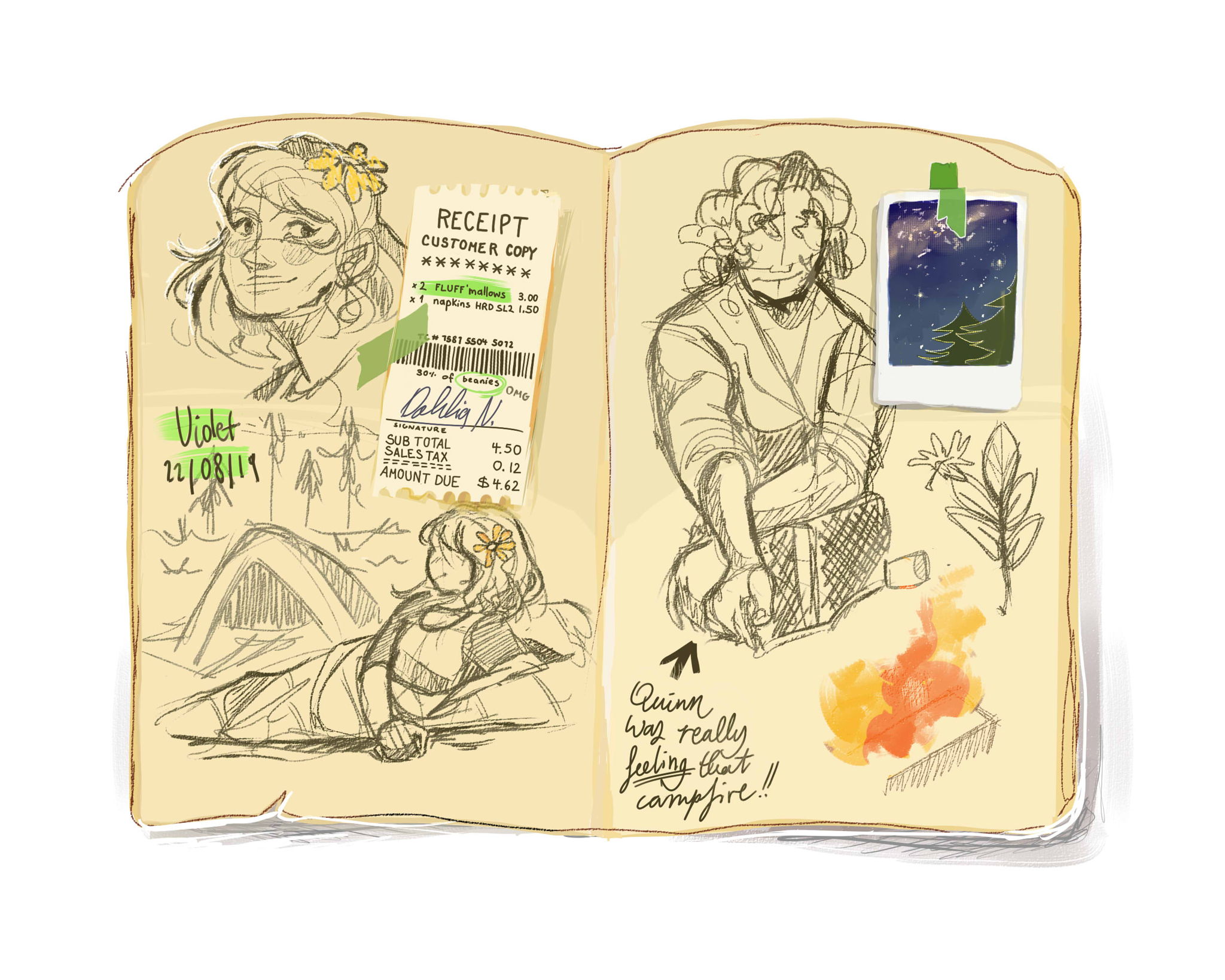 Sweetbitter tells the stories of three teenage girls in their last summer in Averno, at once tender and sweet in its celebration of their relationships, and weighted by the gravity of intergenerational trauma in tight-knit communities. The story follows three best friends- Cam, Violet, and Dahlia, through their last summer in their hometown. When Cam and Violet were children, they started a tradition- Friday nights in their clubhouse at the edge of the woods. Now, thirteen years later, they have grown up and grown apart. In one final summer, the friends learn the dark truth about their small town and must reckon with what it will take to get out.
While this all sounds very dramatic, this is also just a story of teenagers. They have midnight dance parties and Netflix marathons, go skinny dipping in the lake and get drunk under the stars. It is a love letter to the friendships that make us and the strength it takes to grow up, to the spaces that hold us and the family we find.

We have been taking advantage of the quarantine to bear down on the final steps of pre-production, heading into shooting as soon as health allows. We plan on having shooting and a rough cut done by the end of summer.
This is one of the most financially challenging steps in a piece: producers are hesitant to invest in a project without a rough cut, or at the very least a trailer. An interesting conundrum, given that it takes money to rehearse people, pay actors, get a light, sound, and camera crew on the ground, and make that footage.
If you choose to donate, it will allow us to begin production and get that vital footage. With your help we can:
-Pay our actors and creative team. With NYC being shut down, all of our theatre artists are currently out of work, and this will allow us to pay them for their time.
-Pay for equipment. Renting camera equipment isn't cheap, and to complete the project we'll need to rent cameras, lenses, mics, monitors, recorders, and soooo many batteries.
-Pay for studio time. One of the rewarding and challenging parts of musicals is the studio album. This alone can easily cost $6000, and it is one of the most integral parts of the project.
-Pay legal fees and insurance.
-Apply to festivals (which often cost upwards of $500 each in application fees.)
-Create a rough cut which will allow us to show the industry our vision.
Our story is all about uplifting and creating spaces for women, and we are invested in carrying out that mission at every level. With three female leads, our story showcases vital new narratives. We are also showcasing that diversity behind the camera: our powerful all-female creative team is committed to hiring women, queer folks, and people of color in key developmental positions.

Sweetbitter has, in some ways, been in development for 6 months. In others, for six years. It is, at its core, a story about growing up as a young woman in the south, a story that I had to live to be able to write. The first draft of this show was born in November as a play, sans music. There was truly only one artist I could imagine as the composer- Annalise Emerick. Known for Field Notes, a singer-songwriter album that became the soundtrack for kids in summer camps everywhere, her music's floaty ephemerality and gorgeous groundedness in its emotional depth was the only thing I could imagine scoring the script.
So I wrote her an email asking to collaborate.
Shockingly enough, she said yes.
In December, a first draft was born. A small-cast, one-location musical about the hardest thing in life- growing up. A musical that was by design, small, but in concept, so much greater than I could have hoped. We teamed up with the inimitable Daniella Caggiano to direct the first reading at the Flea, and by our second reading, we had a much more solid vision. With a cast composed of a famous youtuber, a Broadway actor, a punk rock vocalist, and an accomplished chamber flutist, we were ready to begin workshopping.
And then COVID-19 happened. In one fell swoop, all of our plans were neatly whisked away. At first, we all mourned. Like so many other people, the work we had been developing for months felt pointless. But then we realized that perhaps this was an opportunity. A challenge, of course, but an opportunity nonetheless. If we can't bring this to people in person, we'll just have to bring it to them in their homes. Hence, a film was born.
As a teenage girl growing up in the rural south, the most precious memories I had were of the times my friends and I were alone in the woods, no outside pressures or judgments or gaze. It was there that we tried out identities, opinions, said horrible things and brave things and really stupid things. Where so many films about teenage girls are reactionary, Sweetbitter is unique in that it holds space for girls to just be girls. To me, this story is everything I needed to hear as a teenager- that your voice matters, and it matters alone, not only in opposition.

The film features a score by the incredible Annalise Emerick. Annalise Emerick, a self-starting, twenty-something, singer-songwriter has been on the road virtually non-stop for seven years. Choosing to leave behind any semblance of a normal life for the day-to-day of a traveling independent musician was always a no-brainer for the Nashville spitfire. In 2011, Emerick released her first project, Starry-Eyed, to heavy critical acclaim after it debuted at #9 on the iTunes Singer/Songwriter chart. Three years after the release of her first EP, Emerick returned with Field Notes, a folk-inspired, markedly more mature turn for the singer that demonstrated just how much her endless days on the road and years of hard work fostered her growth as an artist and performer. With Field Notes, Emerick has situated herself among fans of Brandi Carlile, Patty Griffin, and Eva Cassidy alike.
Emerick has toured extensively all over the US, playing 150+ shows every year. In 2015, Emerick won the Wildflower Festival singer/songwriter contest in Richardson, Texas, opened for Gregory Alan Isakov at a sold-out show at the Ogden Theatre in Denver, Colorado and completed a European tour. A native of Austin, Texas, Emerick was thrilled to be selected as a 2016 Kerrville New Folk Finalist.

$25- We will give you a personalized thank you on social media, and send you behind the scenes updates on the film's progress.
$50- You will receive a signed art print of the characters from Sweetbitter, as well as a digital download of the album.
$100- You will receive all the above goodies, as well as a behind the scenes Zoom meeting to get a look at the rehearsal process.
$250- You will get all the above, as well as a personalized thank you card signed by the whole cast and an invite to a special New York rough cut screening.
Donations over $1,000 will receive an Associate Producer credit and will be invited to the friends and family screening and receive a secret link to the film while it's in festival submission. We are following Producer's Guild of America guidelines for Executive Producer credit, and awarding that to donors who give at least $25,000.
Of course ANY amount is much appreciated! Donations over $50 will receive a link to the final film.
Make your contribution go farther:
Please look into whether your company participates in a matching grant program. Large corporations and even smaller companies will often match an employee's donation to a 501c3 100% or sometimes even 200%!
Donate via Credit Card or eCheck
Averno FAQ
Is my donation tax deductible?
Yes, we are a fiscally sponsored project of From The Heart Productions, which is a public 501c3 organization recognized by the IRS. Your donation is tax-deductible to the fullest extent permissible by law.
WeDidIt FAQ
Is my donation and credit card info secure?
Yes, the security and confidentiality of your information is our highest priority. We will not sell, trade or share your personal information with anyone else, nor send donor mailings on behalf of other organizations, and we will only share personal information if you have given us specific permission to do so.
How do I know that my donation was made successfully?
You will receive an emailed receipt immediately after your donation is submitted and your credit card is processed. Your donation will also show up on your bank or card statement within 1-3 business days.
Do I get a receipt?
Yes, a receipt is sent to your email inbox once your donation is processed. Please be sure to keep a copy of your receipt for tax purposes. If you select a recurring donation, you will be sent an individual receipt each period when your donation is processed.
Is my donation private?
We will not share or sell a donor's personal information with anyone else, nor send donor mailings on behalf of other organizations.